COVID-19

Information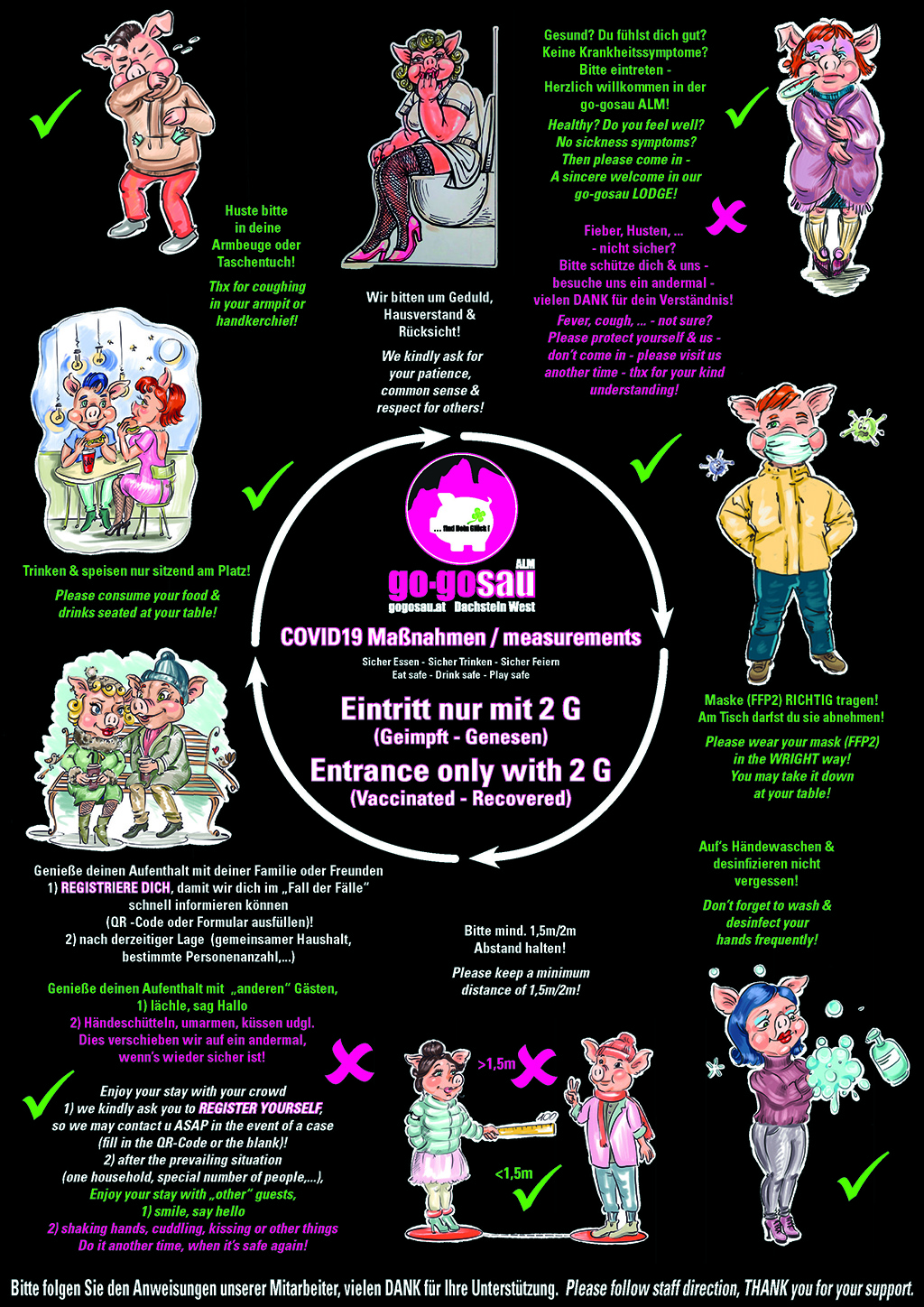 According to the COVID19 regulation, there will be NO après ski & ski hut fun in the form
we all know, in this winter season 2021 / 2022.
Even if the "PARTY" is only a small part of the go-gosau experience,
we are consciously aware of our responsibility towards our guests,
our employees and their families as well as our own families -
including children and old in our company

We will be there for you in the coming winter, always SAFE in whatever permitted form & finally (hopefully) soon.
Aprés chill instead of après ski, because despite everything
"The Snow Must Go On" and
"Skiing is topnotch"!
Full of vigor, confidence, heart and soul, with brain and character as SAFE as possible,
we will find "our very personal go-gosau happiness" again this year!
At the most beautiful place "in the world", in beautiful nature, with good food and drink,
as well as quieter, but still mind-caressing sounds

We have prepared ourselves well for the winter season 2021 / 2022 with a few "modifications / optimizations"
and a specially adapted hygiene and prevention concept!
As early as the spring of 2020, we PROVED that the safety and well-being of our employees
and our guests has the highest priority and that we take our responsibility 100% seriously.
Completely voluntarily and WITHOUT an official order, we closed the go-gosau ALM early
on March 13, 2020 and ended what had been a highly successful season on our own initiative.
Days BEFORE government quarantines & lockdowns. And you may rely on our professionalism also in the coming winter!
With patience, understanding for each other, distance, hand hygiene with top products,
a smile despite the mask & the insight as well as acceptance
that this season will "simply" be something DIFFERENT, we ASK & THANK you today.
We are really looking forward to welcoming and spoiling you all again soon, HOPEFULLY,
from Friday, December 17th 2021! Strong together - Big hugs,
Claudia & Nick with Heidi and
the seniors Christa & Ossi with Beagle Lady Nanny,
as well as the legendary go-gosau TEAM - until then stay healthy & alert